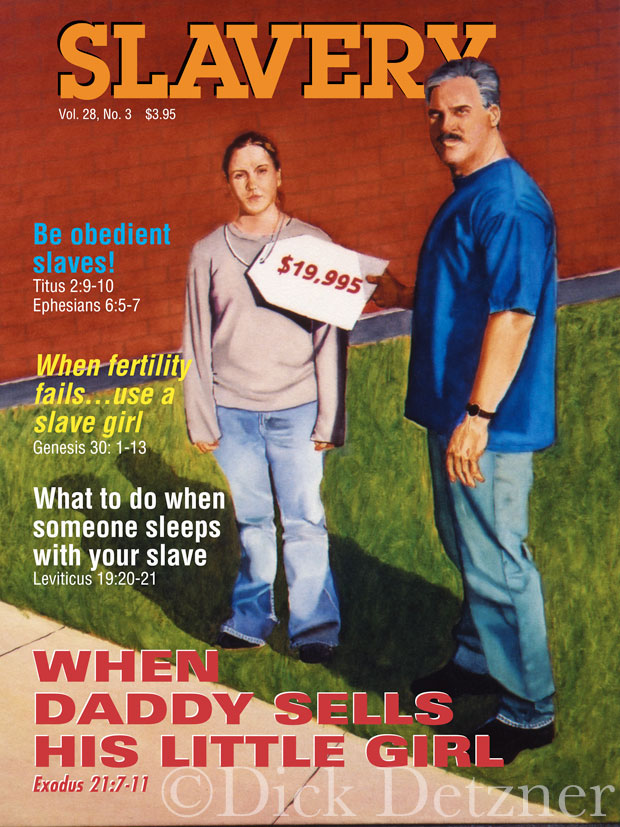 Oil on canvas,
24" x 30"
Digital text added
Bible passages referred to in this cover:
Titus 2: 9-10
Teach slaves to be subject to their masters in everything, to try to please them, not talk back to them, and not to steal from, but to show that they can be fully trusted, so that in every way they will make the teaching about God our Savior attractive.
Ephesians 6: 5-7
Slaves, obey your earthly masters with respect and fear, and with sincerity of heart, just as you would obey Christ. Obey them not only to win their favor when their eye is on you, but like slaves of Christ, doing the will of God from your heart. Serve wholeheartedly, as if you were serving the Lord, not men.
Genesis 30: 1-8
When Rachel saw that she was not bearing Jacob any children, she became jealous of her sister. So she said to Jacob, "Give me children, or I'll die!" Jacob became angry with her and said, "Am I in the place of God, who has kept you from having children?" Then she said, "Here is Bilhah, my maidservant. Sleep with her so that she can bear children for mend that through her I too can build a family." So she gave him her servant Bilhah as a wife. Jacob slept with her, and she became pregnant and bore him a son. Then Rachel said, "God has vindicated me; he has listened to my plea and given me a son." Because of this she named him Dan. Rachel's servant Bilhah conceived again and bore Jacob a second son. Then Rachel said, "I have had a great struggle with my sister, and I have won." So she named him Naphtali.
Leviticus 19: 20-21
"If a man sleeps with a woman who is a slave girl promised to another man but who has not been ransomed or given her freedom, there must be due punishment. Yet they are not to be put to death, because she had not been freed. The man, however, must bring a ram to the entrance to the Tent of Meeting for a guilt offering to the Lord."
Exodus 21: 7-11
"If a man sells his daughter as a servant, she is not to go free as menservants do. If she does not please the master who has selected her for himself, he must let her be redeemed. He has no right to sell her to foreigners, because he has broken faith with her. If he selects her for his son, he must grant her the rights of a daughter. If he marries another woman, he must not deprive the first one of her food, clothing, and marital rights. If he does not provide her with these three things, she is to go free, without any payment of money."